Residential Exterior Cleaning Services
We Specialize in the Following Services:
Low Pressure House Washing
Low Pressure Roof Cleaning
High Pressure Concrete Cleaning
Paver Repair / Sanding / Sealing
Pool Deck / Screen Cleaning
Window Cleaning
Artillery Fungus
Are you noticing small spots on your home, car, patio furniture or anything else in proximity of your mulch beds? If so, you have some Artillery Fungus nearby.
Artillery fungus is a wood-decaying fungus that likes to live in landscape mulch. The fruiting bodies of this fungi are about 1/10 of an inch across and are very hard to see. They resemble the end of a cannon barrel and shoot their spores up 6-10 ft. onto objects nearby.
Artillery fungus has been more prevalent than it has in the past. Landscaping over the past several decades has included the use of wood mulch. In the past, purely bark mulch would have been more typical. Cool spring and fall periods will always yield more of the fungus as well. It's common to notice this fungus growing in shady environments and on the east and north sides of homes. Beds that aren't in full sun most of the day are most susceptible. However, artillery fungus has been found in full-sun environments as well.
Spores are very sticky and don't take long to fasten themselves to surfaces. This makes them almost impossible to remove with most cleaners. They don't pose any damage risk to surfaces other than cosmetic.
You can remove them by rubbing / scratching with your fingernail, but this is not something we will remove from your property as it is very time consuming and would be very expensive.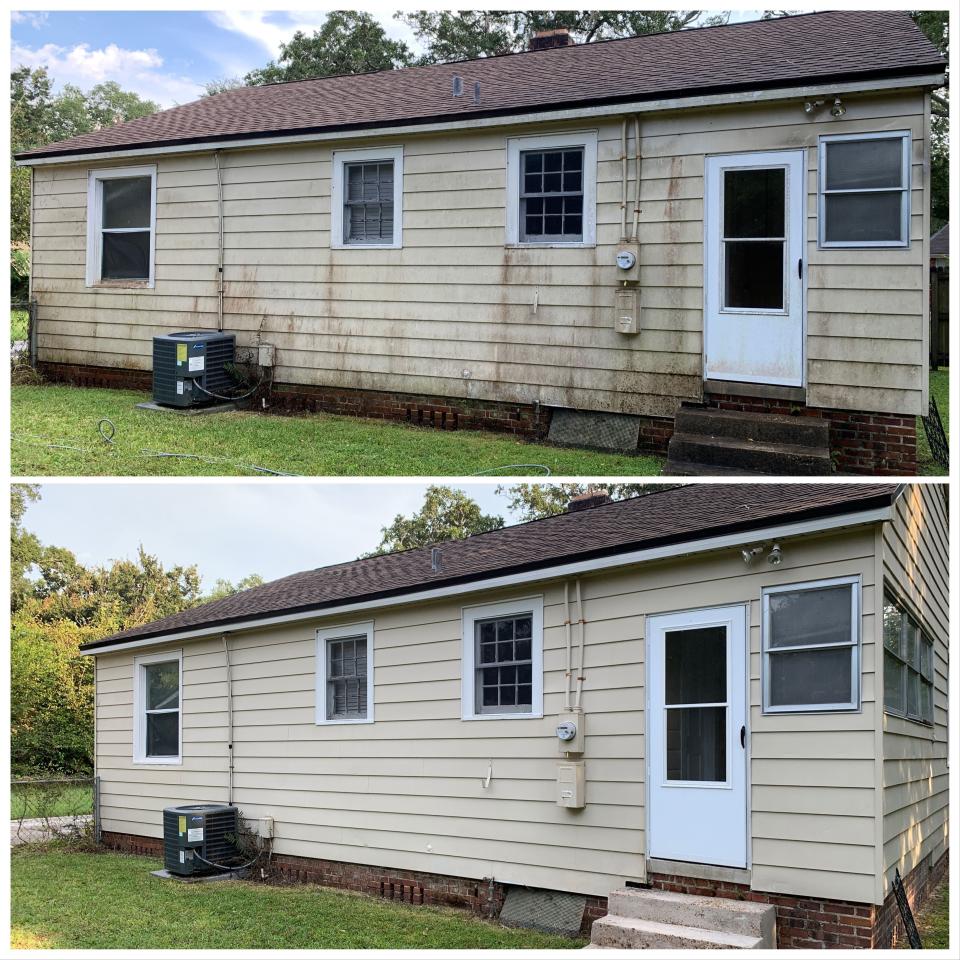 Creeping / Climbing Vine
Keeping your driveway looking new is one of the most affordable and effective ways to to maintain the best curb appeal and welcoming feel for your home!
We use professional chemicals to pre-treat your driveway and allow the solution to target organic buildup and bring it to the surface to be cleaned.
We, then use our heated water system in conjunction with a high-pressure surface cleaner to remove years' worth of buildup at the speed of light!
When we are finished surface cleaning your driveway, we then apply a "post treatment". This step targets any remaining spots on the driveway and melts them away! this process is the most effective and the most professional way to ensure no stripes are left behind!
Paver Repairs, Sanding and Sealing
Preserve the look of your hardscapes and keep it pristine with a high-quality paver sealer.
We use a sealer named "Hurricane CAT 5". You know with a name like that, it has a reputation to stand up to! This sealer leaves unbelievable results that will last 3-5 years!
This water-based sealer provides the following qualities:
Highly Concentrated Sealer Not Watered Down.

Very strong joint stabilization.

High durability for low, medium and high traffic areas.

Fungal guard to protect from algae, mold, mildew.

Deep color enhancement for an aesthetically pleasing finish.

Non-toxic

Industry leading product.
We keep paver driveways, patios, walkways, retaining walls and other hardscape areas throughout Orange Park looking amazing. We do not use over the counter products because they don't live up to our standards. We are about doing things the "Proper" way and your big box store products won't cut it. You will pay more over the course of 2-3 years than paying once and having it done properly. Our process in a nutshell is simple. First, we clean the surface. Secondly, we prep the surface and apply sand in between the joints. Lastly, we apply that beautiful sealer to your hardscape surface and allow for the magic to happen. 0 complaints, 0 issues and only the best finish possible! Contact us today to ask any questions!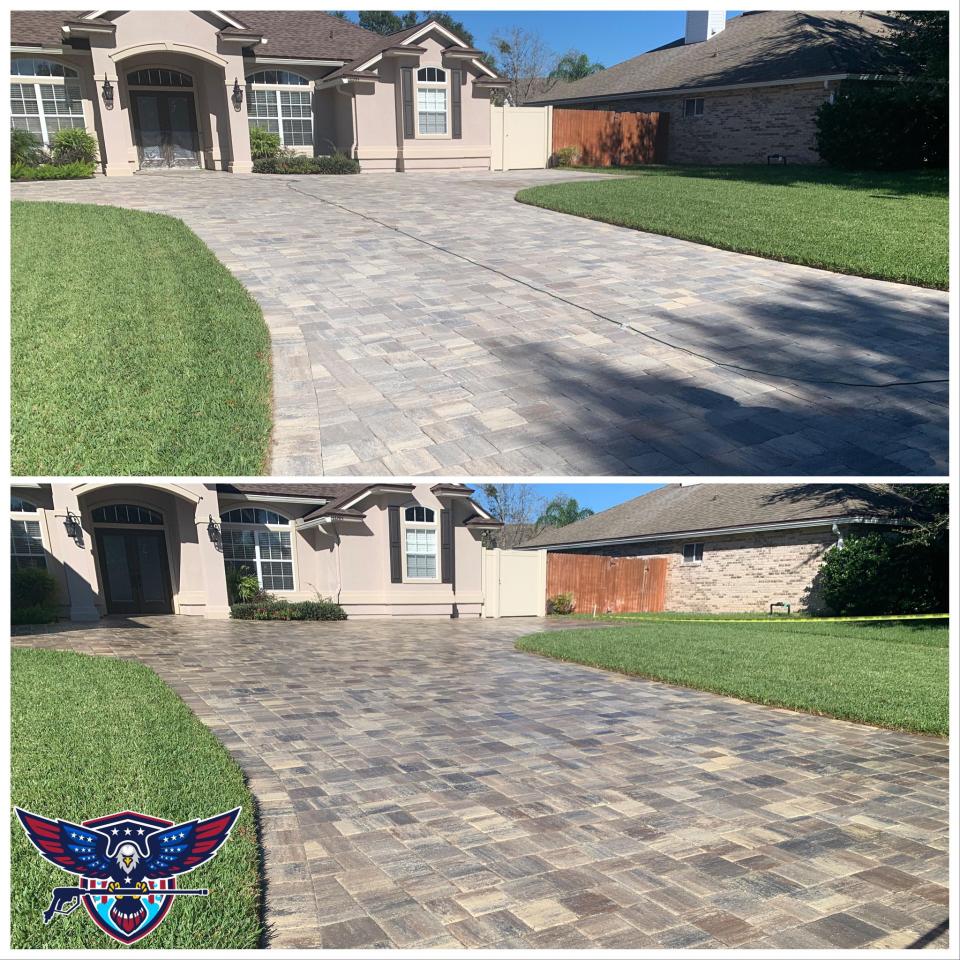 Vinyl / Wood Fence Cleaning
Over time you may start to see a green organic buildup on your white or tan vinyl fence. this is normal and it will continue to happen about every year and a half to two years. Maintaining the look of your vinyl fence about every twelve months will help to keep it looking as clean as possible! Our low pressure application will eat away any mold, mildew, algae, or other grime you may be seeing on the face of your fence!
Protect your investment and keep the look of your fence optimal with a "Proper" Cleaning.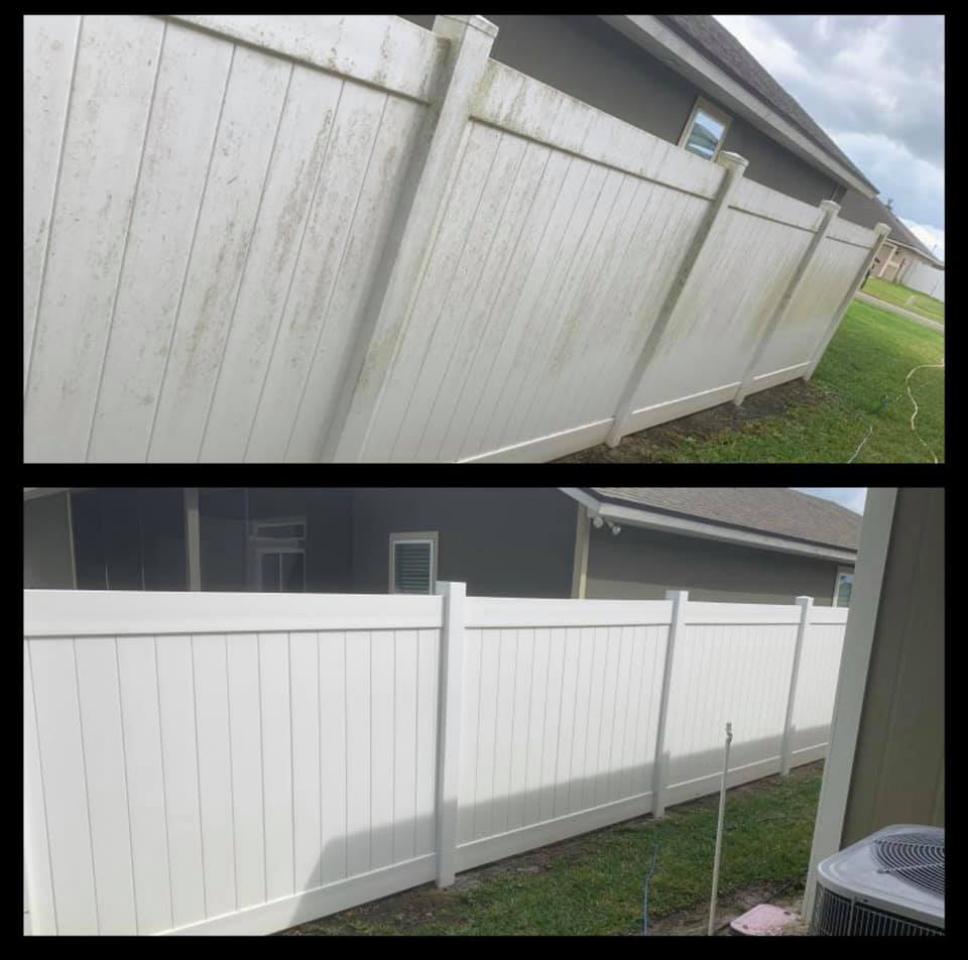 Pool Deck Cleaning
Does your pool deck look like the picture above?
Not a problem! we can take care of that for you. Our solutions that we use to clean will target the black or dark areas on the surface from regular dirt, mold, mildew and other organic matter and eliminate it on the spot. we will then use medium to high pressure to rinse everything off and reveal your surface again!
Not only can the surface become slippery when there is a large organic presence but leaving the deck untouched can lead to cracked surfaces, degraded paint and other issues that could be costly in the long run.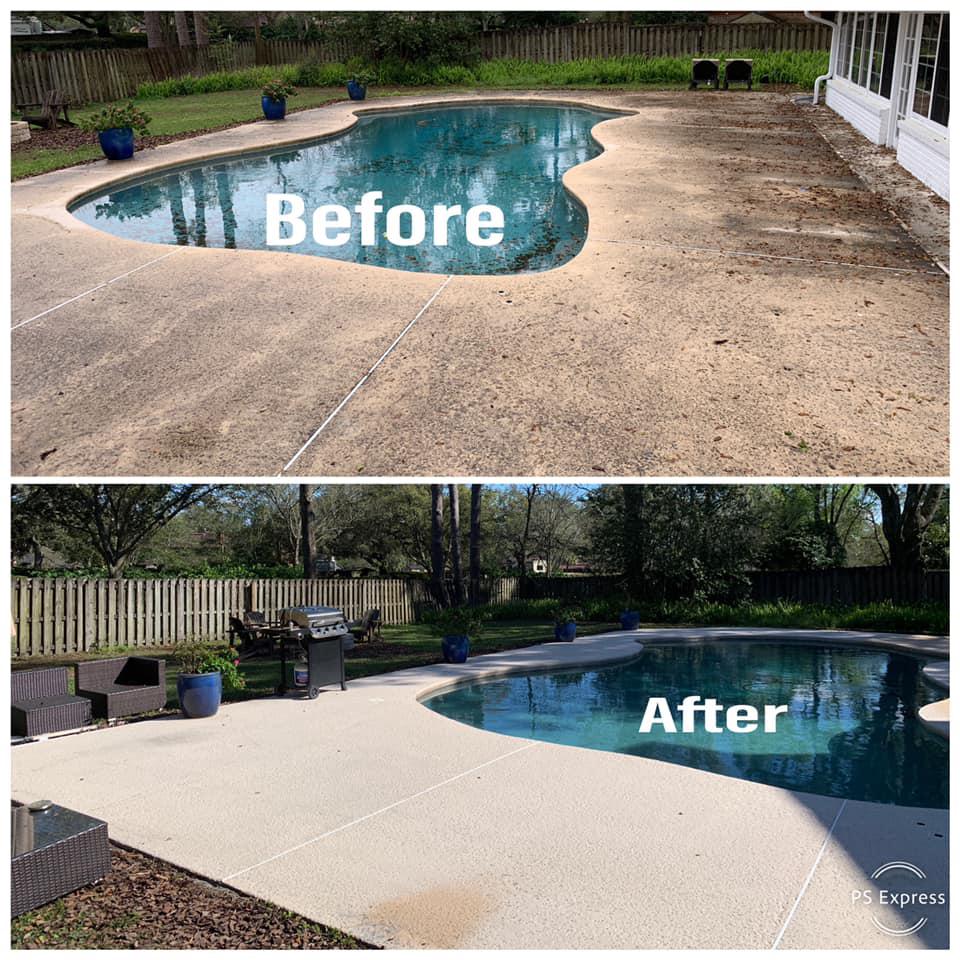 Gutter Cleaning Services
When it comes to gutter cleaning, we have a few different processes to solve your gutter cleaning problems depending on the situation at hand. In the picture above this house was in Ocala, FL. The gutters surrounding the house had not been cleaned in over 10 years! we used a 60ft boom lift to access the top portions of the gutters due to a couple factors. The roof had also not been cleaned in a very long time which combined with a composite shingle (Plastic PVC) it was an ice-skating rink up there. Along with the finish of copper, we did not want to scratch the surface with ladders or risk bending the gutters. So, we scooped all the debris and plenty of spiders by hand to be as careful as possible with these gutters. This job we scooped over 20 5-gallon buckets full of "muck". Overtime, leaves, water and other debris can become trapped inside of your gutters. If you choose not to get them cleaned over the years, they can / will start to sag and back out the brackets that hold them to your house. Potentially, causing property damage or injuries! Don't let that happen and don't get up on the roof. let us do the job for you!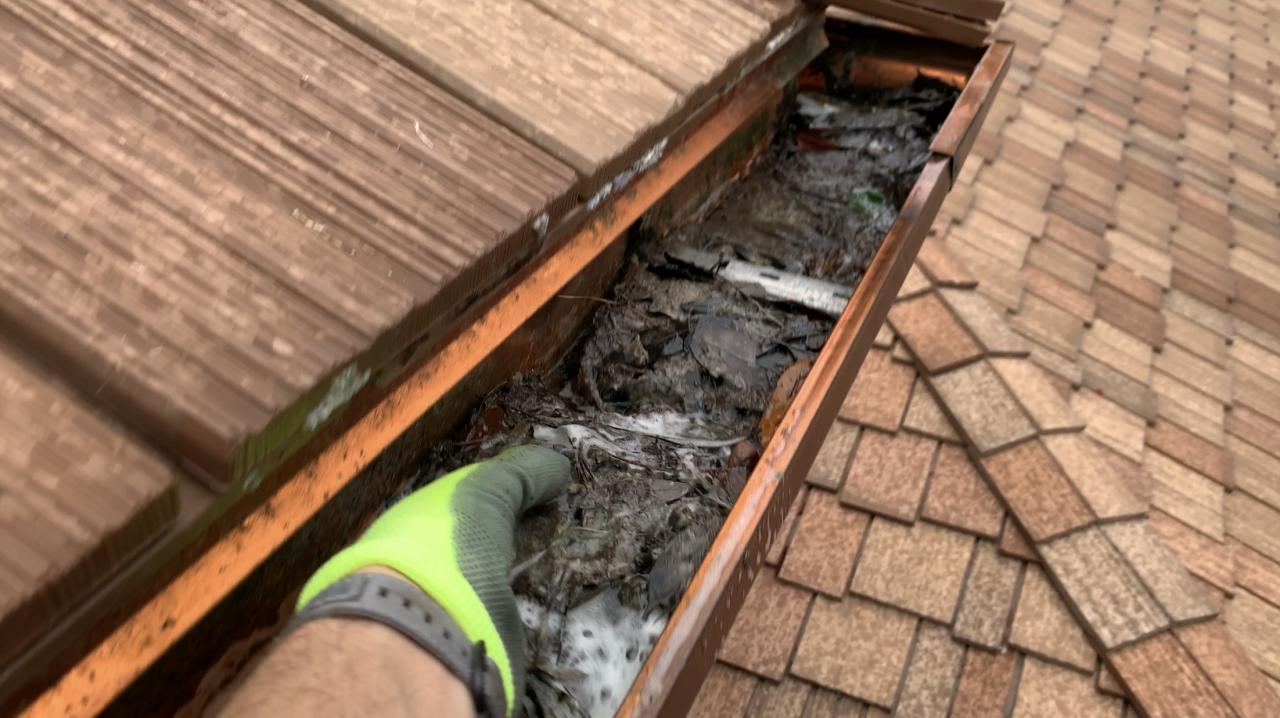 Low Pressure Roof Cleaning
When it comes to roof cleaning there are a few topics to cover. First, you should NEVER use a pressure washer or high pressure on ANY roof. Asphalt shingle roofs are delicate and are not meant to have high pressure blasted at them. Concrete or terracotta roof tiles can crack very easily which could allow water to intrude into your home.
Our low-pressure solution allows us to effectively kill the bacteria, algae, mildew and mold on your roof shingles. Whether, you have asphalt, terracotta, composite or cedar plank roof shingles we've got you covered.
We walk on most roofs as we are knowledgeable about how to walk on them safely, without causing damage.
While on the roof, if we see any damage, missing shingles, cracks, or other obvious concerns we will photograph them and notify you.
We are OSHA lift operator certified and are very familiar with how to operate them in the case of use on your property!